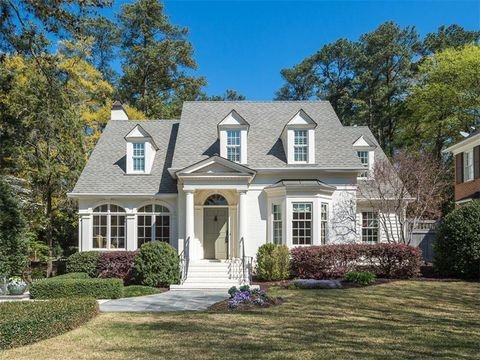 A renovated cottage on Eulalia Road
One of the perks of my job is getting to know people and their neighborhoods. Knowing the neighborhoods and neighbors where I work has made me a much better real estate agent. It helps me showcase a home within the context of a community, giving buyers a richer experience and more valuable information. After 27 years buying and selling homes in Atlanta, I've learned that we have dozens of unique and interesting neighborhoods that are rich with history and families committed to building safe and friendly communities. We also have a number of neighborhoods that offer scenic walkways.
Ridgedale Park is one of Buckhead's gems. Established in early 1920s, it is comprised of three charming streets, featuring a harmonious blend of architecture that includes French and English cottage styles as well as Tudor revival and Georgian homes. Ridgedale Park has many civic-minded residents. Community members have served on the Atlanta City Council for over two decades and many residents have volunteered to serve on City of Atlanta neighborhood planning boards.
Located in the heart of Buckhead, Ridgedale Park is a unique haven from the traffic and noise of city living. Because neighborhood access is limited to Peachtree Road, Ridgedale Park's streets are quiet, and there is little traffic. It is commonly called an urban forest and a quiet enclave. Neighbors walk the serene, tree lined streets daily and take advantage of the opportunity to walk to every amenity a neighborhood needs from Target to Publix to CVS as well as Phipps Plaza and Lenox Mall, where Marta is conveniently located. Dozens of restaurants are a short walk from home as well.
Children attend both private schools and some of the best Atlanta public schools. Sarah Smith Elementary, the Ridgedale Park public elementary school is less than a mile away. It is both a Georgia School of Excellence and a National Blue Ribbon School.
Residents celebrate holidays each year with parades, parties, picnics and caroling. I sold a home on Eulalia Road to the Goldman family in 1995. They who moved in with an infant and a toddler who are now in college and working in Atlanta. We've remained in touch for the past twenty years. The Goldmans recently shared how much they enjoy seeing a new generation of children playing catch in their front yards and riding their bikes. Maureen Goldman shared, "We've been lucky to live in a neighborhood where you may not see a car for an hour. We all felt safe letting our children roam when they were growing up. I don't think we'll ever move. When you sit in our backyard, it feels like you are miles away from the city. You see nothing but a big green lawn, tall trees, and a seasoned landscape. I can walk to Publix in five minutes and CVS in three. It feels like the best of both worlds."
Give me a call if you would like to take a tour of Ridgedale Park at 404-805-2273, or email me at cathy@cathylamon.com. I would love to introduce you to the neighbors.